VACUUM PACKING MACHINES
Vacuum Packing Machines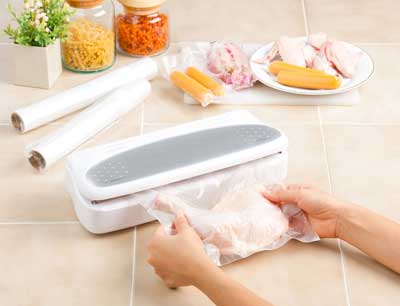 Shop online at Huon Distributors for a range of vacuum packing machines suitable for both domestic and commercial use. (These vacuum packers are sometimes referred to as 'food savers' or 'food sealers' due to their ability to delay the spoilage of food by exposure to aerobic bacteria). We only stock quality machines at the best possible prices.




Vacuum packing is a process which uses specialized equipment and barrier pouches to pack food in such a way that deprives any existing bacteria of oxygen, thus dramatically increasing shelf life.




Vacuum packing is best used when needing to extend the shelf life of refrigerated products, but it can also be used as a way to minimize freezer-burn on frozen goods. Campers appreciate the convenience of long-life, pre-prepared meals, and smallgoods makers can preserve products such as fermented salami for many months. The actual results that can be achieved from vacuum packing can vary significantly, and are affected by a number of factors, including the type of foodstuff involved, and it's condition when being processed. Please refer to our 'Tips and FAQ's' section for more advice on getting the best from vacuum packing.




When selecting a suitable machine, keep in mind that the smaller units tend to use 'channel' or 'etched' vacuum pouches which are more expensive, whereas the larger 'chamber' style machines use standard pouches which are much cheaper to buy. We stock vacuum pouches to suit our entire range of machines. They can be found in the 'Packaging' section of our website.






---

Are you a business looking for a flexible funding alternative to outright purchase of your equipment? Click on the link at right for more information on Rent-Try-Buy offers from our renowned equipment financing partner.
---