BUTCHERS HAND TOOLS
Butchers Hand Tools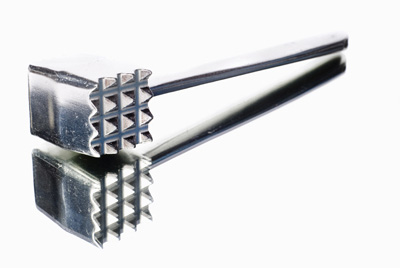 Shop online at Huon Distributors for a comprehensive range of butcher's hand tools, including meat saws, boning hooks, 'S' hooks, gambrels, meat cleavers, choppers, meat tenderisers, bone-dust scrapers, sewing needles and rolling pins.




Our variety of commonly used butcher's hand tools can assist in the meat preparation process, whether you are a commercial processor or home butcher. Our large meat cleavers are heavy and strong enough to cut through bone. Our butcher's handsaws are specifically designed for meat industry use, and for quick and easy blade replacement when necessary. We have Boning Hooks and 'S' Hooks, which are used for hanging boned meat portions in the cool-room while they await further processing.




Our meat tenderizer mallet is a heavy duty, industry-sized tool that you won't find in your average kitchen appliance store. We also offer stainless steel rolling pins and sewing needles for those wishing to create rolled-roast cuts with beef, pork or lamb.