FOOD TUBS & CRATES
Food Tubs & Crates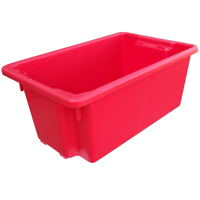 Shop online at Huon Distributors for a great range of tubs and bins suitable for the storage, transport and handling of food and other materials. These products have been specifically designed to withstand the demands of the commercial food industry, and as such have been made from tough, food grade plastic and are built to last. They will not shatter when dropped like some of the cheaper products currently available in hardware stores.
All of our tubs will nest inside each other when empty, and our 'stackanester' variety will nest one way or stack when turned around.
We stock all of our tubs in the 'Natural' (off-white) colour, however, other colours such as red or blue can usually be supplied by special request. Due to the bulky nature of tubs and their ability to stack inside each other, we will need to provide a tailored freight quote for all orders which include tubs. Simply place you order and we will email you a no-obligation quote for freight for your approval before proceeding.