COLLAGEN CASINGS
Collagen Casings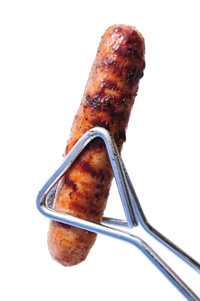 Shop online at Huon Distributors for the best prices on high quality collagen sausage casings, available in small or bulk packs. Huon Distributors are the Australian and New Zealand agent for 'Nippi' Collagen Casings. Nippi casings are the best quality collagen sausage casing available. They have excellent clarity and bite characteristics, and stand up to the cooking process much better than other brands.




Collagen casings are made from the collagen layer in the hides of beef cattle. They come in shirred 'slugs' that are designed to be placed 'dry' in one piece on the stuffing nozzle, then filled. Depending on the type of filling, it can be beneficial to splash a little cold water onto the filled product to help soften the casing prior to linking. As collagen casings are inflexible when dry, it is best to use a straight filling nozzle rather than a tapered one.




Nippi casings are available in an assortment of calibres and colours. The Nippi 'Fresh' (F) range is suited to making traditional fresh sausages that are intended to be fried, grilled or barbequed. The coloured 'Processed' (R) varieties are suited to making smallgoods products such as cabana, frankfurts and saveloys.




These casings are available for purchase in full 'caddies', or alternatively they can be bought in single 'slugs'. Please check our individual products for more details on caddy quantities, slug lengths and fill rates. Also, consult our Tips and FAQ'S section for more information on using collagen sausage casings.