SHARPENING EQUIPMENT
Sharpening Equipment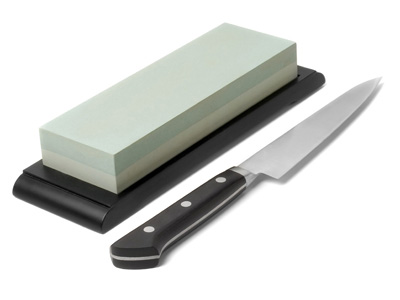 Shop online at Huon Distributors for great prices on our range of sharpening equipment to keep your knives razor sharp.




In order to rejuvenate a dull blade on a knife caused by continued use or damage, it is necessary to use some kind of grinding process to remove metal and bring up a new, straight and sharp cutting edge. Grinding by hand on a traditional wetstone is still the preferred method for those who have the time and the knack to use one effectively. Our wetstones are all double-sided (fine/medium grade) and are available two different sizes. We also cater for those who wish to use machine-oil as a lubricant, as opposed to the more commonly-used soapy water.




For those seeking a quicker and easier method, there are many options available. The 'Accusharp' sharpening tool is a very quick, easy and cost effective way to put a sharp edge on a knife, and stores easily in a kitchen drawer, glove-box or tackle-box.




Our electric sharpening machines offer fast and easy alternatives which are capable of providing very professional results, even in a commercial environment. Importantly, they are designed to minimize excessive heat on the blade which, if not controlled, could permanently damage your knife edge.