MEAT MINCERS
Meat Mincers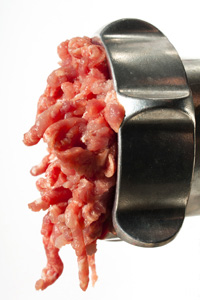 Shop online at Huon Distributors for our range of domestic and commercial sized meat mincers, (or meat grinders as they are sometimes called), including the Italian-made 'Reber' brand, and larger mincers from Halls Food Equipment.




A good meat mincer / meat grinder is one of the most important pieces of equipment in a butcher shop. The ability to grind meat cleanly and efficiently is crucial for anyone wanting to make their own sausages and other smallgoods products.




There is a huge range of mincers on the market, ranging from small hand operated kitchen style mincers, right up to huge mincer/mixers that are used in commercial operations. The key is to select one that is right for the job you intend it to do. For anyone remotely serious about processing their own meat at home, small kitchen style mincers are best avoided. Whilst they may be ok for experimentation, they tend to be under-powered and will give generally give disappointing results for anything but the most basic use. Experience has taught us that no-one ever regrets buying a decent mincer / grinder that will last, and that has the ability to power through both small and larger jobs with ease.









---

Are you a business looking for a flexible funding alternative to outright purchase of your equipment? Click on the link at right for more information on Rent-Try-Buy offers from our renowned equipment financing partner.
---