CABANA PREMIX 2.7KG
Cabana Premix 2.7Kg
Price: $34.00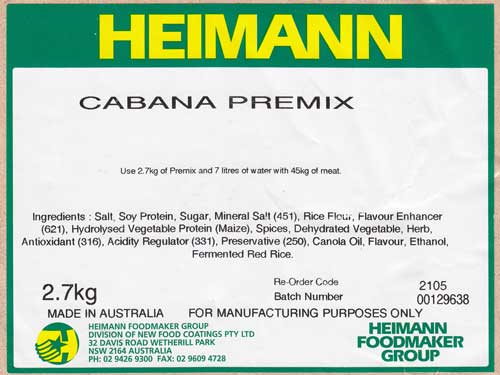 Cabana premix is one of our most popular and versatile products. In addition to making a great-tasting Cabana, it can also be used for making Pepperoni, Kransky (Polish Sausage), and Strassbourg.
Cabana mix makes a product that tastes great by itself, but if desired, you can also add extra ingredients such as dried chilli, garlic or cheese pieces to give your smallgoods a personalised flavour.
(For smaller batches, simply use ingredients in the same ratios as shown above).
Method For Cabana / Kransky / Strassbourg
2.7Kg Cabana Premix
45Kg Meat (50% Lean Beef / 50% Fatty Pork Trim)
7Kg Iced Water
1. Mince meat through a coarse mincer plate.
2. Add Cabana Premix and mix well.
3. Add Iced Water and continue mixing.
4. Mince again through a coarse mincer plate.
5. Put mixed product into a food-grade tub and place under refrigeration overnight for cure to work.
Next Day:
6. Fill mixture into relevant casing (Use hog or collagen casings for Cabana and Kransky. Use natural or polymer bungs for Strassbourg).
7. Using a smoke-oven or water bath, cook to an internal temperature of @ 65 Degrees Celsius. Ensure that temperature of the smoke oven does not exceed 105 Degrees, or that the temperature of the water bath does not exceed 70 Degrees. DO NOT exceed these recommended temperatures, or fat liquification will occur and degrade your product!
8. During the cooking process in a smoke oven, apply smoke as required.
9. Remove finished product from cooker and chill to < 4 Degrees Celsius. Pack as required.
10. Enjoy!